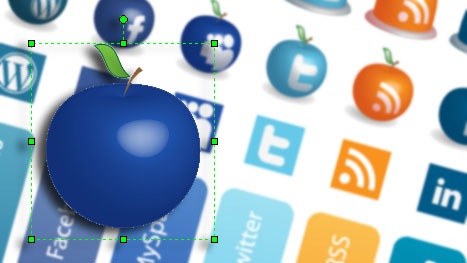 I just spotted a post over at Snap 2 Objects.com and thought I'd highlight it here. This site is a great resource for both icons and other graphics and is particularly interesting for Visio users as they frequently produce both vector and raster formats.
The latest post, "Social Media Icons Mega Pack", has a zip download from Carlos Carvajalino containing svg, ai and eps file formats, for the vector crowd, and also the same range in png format.
Visio can import svg files (File / Open and then set the file type to svg), but on this occasion I found that it had a few issues with managing some of the layers. For example, on the apple shape above, the logo shapes didn't make it through. My guess is that if you open either the eps or ai files in Illustrator then you'll be able to copy and paste over the shapes of interest.
If you do elect to use the vector shapes, which would be the ideal option, you will probably want to modify shape as svg makes for a pretty heavy shape. For example, I pasted one of the apple shapes across to a new page and then had a peep at the Drawing Explorer and discovered that its made up of about 160 individual shapes, some of which are grouped groups – not good.
I should point out that this isn't the fault of the designer, it's just that the conversion process from svg to Visio produces a fairly heavy shape that need to be optimized if you going to use many instances in your diagram.
If you want to avoid the work then I would probably go for the png versions as they come in 32, 64 and 128 pixel versions.
Anyway, it's a great set of icons and I can see it having a home in various Visio network and site maps.